My First Log....
Jan 11, 2004
Hi to everyone, this is my first posting so I'm sorta u know (excited) umm... was that the right term?? anywayz, im only half way through my day, but I already got lots to tell you people, so here it goes....
Last friday was the 18th bday of one of my dearest friend Jovs, she's a friend from school, so, anyway, she had this informal swimming party, which is cool coz' we didn't have to go through all the trouble of dressing up! so, anywayz, it was held at this private resort in calamba, and it was an overnight swimming party by the way.
so, we went there, had fun, eat, eat, and eat!!! (lolz!) had a drinking spree, but for once i didnt join the drinking, coz the last time that i got wasted then swam, i had a seizure, but nonetheless i was still able to enjoy myself (but ofcourse! kasama ko honey ko e!) the party was super fun mind you guys, why?!! coz of the free food, the free billiards, the pool, the people, the ambiance, environment, and more! but the real catch here is, it's been a long time since our group had this kind of event where in we were almost (sayang la si bess ko "jeff" na miss ko nga sya e!) complete! no fighting, no messing around, no arguments, just pure clean fun!
we didnt sleep for the rest of the night, and whats ironic is buhay na buhay pa din kame untilo the next day! haha! and me and my other bezz (jek) we were fooling around with the pictures, i think mas madami pa kaming picture ng bezz ko kesa dun sa celebrant!!! whenever may kukuhaan or makikita namin ung camera, we would run towards it and pose, smile, and project! (san ka pa?!) feeling kase namin we are oh so photogenic eh! lolz, but we were just trippin, it was fun!
hmmm... what else, did i say that i ate like a cow??? if i didn't then I'm tellin yah!!! lolz. then the pool, it was so hot, and so relaxing, i liked it, really. well i think this has been long, but anywayz, hope you had fun reading it as much as i had fun writing it... till next time, i have to go to church later and buy a gift for my honey, coz you see, it's his birthday tomorow, then i have to figure out what to wear for that, coz ofcourse, i have to look cute right??? lolz, so till here, i'll write more later okies? bye now!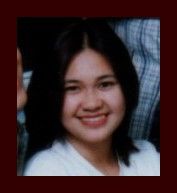 This is Meeh...