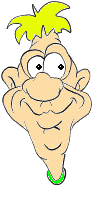 If one freaky dead asshole, come and broke your heart, don't shed too much tears nor hang on a hope that someday both of you will be lovers again. Instead be proud and say, Hay nako noh! So much for you...... Next FaFa plz...
Send me a message...
on my ym just add atlindanda (my nick)
or e-mail me @ this addies:
thanks....
Sigaw!!! Check it Out!